Pharmaceuticals and Animal Health Care
Development from our core business
Our pharmaceutical and animal health care businesses began from the development of "Kantec", a liver protein metabolism improvement agent released in 1985. It was derived from the toxicological research conducted on "Fuji-One" (fungicide).
Applying the technologies we have cultivated as an agrochemical manufacturer, we also develop topical antifungal drugs (athlete's foot) and flea/tick control agents for animals.
Our proprietary products for pharmaceutical and animal health care
Athlete's foot (Topical antifungal drug)
 As an agrochemical company, the majority of our net sales consist of agrochemical sales. Some people may be suprised to know that an agrochemical company develops a drug for athlete's foot. In truth, this athlete's foot drug is derived from our agrochemical research.
The key is our "All -around Screening System". For each compound, we multilaterally evaluate its biological efficacies (pesticide, fungicide, herbicide, etc.).
Shall we dance?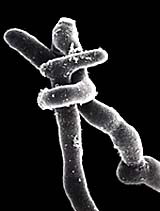 The 52nd The Japanese Society of Microscopy Photo Contest Chairman's Award
Asami Konomi, Akane Tameike, Prof. Masako Ohsumi (Nihon Women's University, Faculty of Science)

Dermatophyte intertwined due to the affects of microcosmic amount of lanoconazole
The active ingredient in our athlete's foot drug was originally evaluated as unfit for use as a agrochemical because it was susceptible to the sunlight and not suitable for plants. However, accepting the researcher's opinion that it could be used on humans, research was continued and this eventually led to the launch of lanoconazole, an active ingredient that has strong antifungal efficacy and is effective against trichophyton (the source bacteria of athlete's foot). We subsequently invented luliconazole. Today, these two products are the top-selling pharmaceutical products for athlete's foot in Japan.
Animal Health Care
In addition to our athlete's foot products, our pharmaceutical business also develops animal health care products.
Product name
| | |
| --- | --- |
| FUJIX® spray: | Cow liver illness and fat necrosis treatment |
Product name
| | |
| --- | --- |
| Nichino Apistan®: | Tick repellent for bees |
Feed additive
Product name
| | |
| --- | --- |
| Nosiheptide: | Antibacterial feed additive, pig and chicken growth promotion, feed efficacy improvement |