Role of Research Center
The Research Center is responsible for a vast range of research, ranging from basic chemical, biological research to safety research, product commercialization research, and bioscience research for agrochemicals and pharmaceutical products. The Research Center also serves as a base for disseminating information. Researchers with expertise in a variety of fields, from agrochemicals to pharmaceuticals, interact and deliberate on a daily basis to promote invigorated commercialization activities.
Research Overview
Representing the culmination of many years of technological knowhow and experience, and featuring the latest in advanced equipment and facilities, our Research Center is where we conduct research ranging from exploratory research to create new drugs to research aimed towards product commercialization. The Research Center is home to various research related fine chemicals, including agrochemicals, chemical products, and pharmaceuticals.
Synthesis research: Synthesis of new compounds and process research for commercialization
Process chemical research: Research related to the commercialization of candidate compounds for agrochemicals and analysis to identify component structure
Formula research: Pursuit of optimal formulas for agrochemicals, etc., research into production methods, research into labor-saving methods and safe implementation methods.
Biological research: Chemical efficacy assessments and effect mechanism research on target organisms (insects, plant pathogens, weeds) of new synthetic compounds, and safety assessment for crops and natural enemy organisms
Safety research: Research related to the toxicity, metabolism, environmental dynamics of candidate compounds for agrochemicals to validate the safety of the compound
Phamaceutical research: Research related to pharmaceutical and veterinary drug efficacy, pharmacology, and physicochemical status
Chemical product study: Research related to residential termiticides
Communicating with Regional Community
The Research Center proactively offers facility tours to help further understanding the effective utilization of agrochemicals and agrochemical safety. We also participate in community events and forums to help promote understanding of agrochemicals and further relations with the local community. In FY2016, we welcomed a total of 822 visitors for tours. Visitors included farmers who use agrochemicals as well as community development members, adult learners, and Nichino Scholarship students (agriculture college students).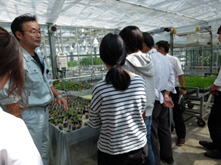 Plant Environment Data
We executed a Pollution Prevention Agreement based on terms outlined by theKawachinagano city with the goal of creating a better environment. Through this agreement, we hold information exchange sessions with the city. We confirmed various environment measurement results and provided information about our responsible care activities.