Communicating with Society
Agrochemicals are related to our society in number of ways, but the role of agrochemicals is barely known. We convey the role of agrochemicals through interactions with local communities and students.
Striving to be an open facilities


Training and tours at our facilities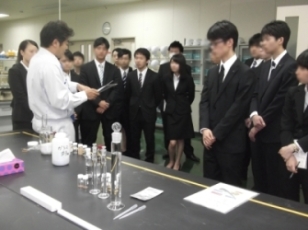 We also conduct tours, seminars and training at our Research Center, the Naganuma Nursery, and the four locations of Nichino Service Co., Ltd. Each year, many people come to visit our facilities (1,859 training / tour participants in FY2019).
Supporting 9 agricultural colleges around Japan


Nichino Scholarship Fund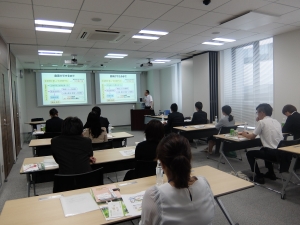 In FY2008, we started the "Nichino Scholarship Fund" commemorating the 80th anniversary of our founding. This year (FY2020) marks the 12th year of this fund. Each year, we provide scholarship funds to students from 9 agricultural colleges around Japan to support the agricultural careers of more than 200 students. Scholarship students are invited to participate in tours at our Research Center and other group locations to provide them with a better understanding of our business and to increase their knowledge of agrochemicals. We hope this opportunity will aid in the development of successors to the future of Japan's agriculture.