Research Center
 The agrochemical discovery research at the Research Center aims to consistentlyl aunch new agrochemicals in every three years that is cost effective and can be registered in Japan, America, and Europe. Our researchers(chemist, biologist, and toxicologist) apply a three-pronged approach to promote effective exploratory research. In our research and development activity, we work to strengthen partnerships with overseas subsidiaries to promote the smooth launch to market for new products in Japan and overseas. We also strive to both maximize the exposure and marketability of existing formulas by researching and developing new fields of application and developing new applications.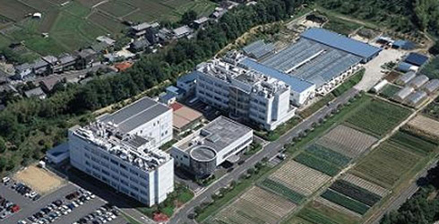 Nihon Nohyaku General Research Center
Location: 345 Oyamada-cho, Kawachinagano-shi, Osaka
Completed on November 30, 1995
No. of employees: 190 (as of September 2016)
Land area: approx. 71,000m²
Building surface area: approx. 16,000m²
Birthplace of New Agrochemicals for Future Generations
Since our founding in 1928, we have contributed to the development of agriculture by providing superior agrochemicals to the world. Our company's mission is to create new agrochemicals that are ahead of their time in order to secure a safe and stable food supply and ensure enriched lifestyles. And to support this mission, we focus on investing our resources on the research and development that serves as our driving force.
The Research Center is the culmination of our many years of technological knowhow and experience, and features the latest in advanced equipment and facilities to further enhance our research and development functions.
Researchers from various fields constantly share information and provide mutual creative stimulation. The Research Center is a bioscience base for creating new agrochemicals for future generations. From the synthesis and exploratory research that serves as the foundation for new agrochemical creation to safety confirmation and product application studies, in both name and substance the Research Center is a comprehensive research facility for agrochemicals, pharmaceuticals, and other fine chemical products.
Research Center
All-around Screening System
One feature of our research center is the "All-around Screening System".
Typically, during agrochemical development a single compound is evaluated based solely on the target agrochemical.
However, we evaluate each compound for all types of agrochemical efficacy, including fungicide, herbicide, etc..
This system can lead to the discovery of efficacies other than the target efficacy. A prime example of this is a market-leading athlete's foot product that uses one of our products as an active ingredient. During the development of an antibacterial agent, we discovered a compound that was susceptible to sunlight and not suited for use on plants. Susceptibility to sun degradation made it ineffective as an agrochemical but the compound was highly effective against athlete's foot. Through our All-around Screening System, we are able to use valuable compounds without waste and continue creating highly effective agrochemicals.
Centralized in a single location
Another feature of the Research Center is that all of the functions required for agrochemical research and development are centralized in a single location.By centralizing all the research facilities required for agrochemical development, including equipment for synthesis and process chemistry, formulas, biology, and safety research, as well as facilities for pharmaceutical research, researchers are able to share information and interact on a daily basis, which promotes to efficient research.